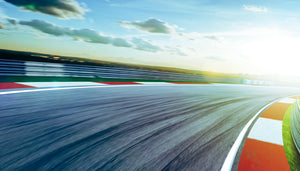 Lightweight Thermal Solutions in Racing
When the heat is literally on in professional car racing, are you ready?
While most people focus on power, fewer consider how the heat produced by the engines and brakes affect a race car's safety and performance. Utilizing high-quality thermal control solutions is vital to professional car racing and other motorsports.
The heat generated from the engine, gearbox, and brakes can result in permanent damages. Not to mention, the red hot parts can expose surrounding components to excessive conductive and radiant heat. This can change how a car behaves, causing performance or power losses and safety issues. As such, thermal shield products are mandatory in professional car racing, such as NASCAR.
These thermal solutions include various types of external covering that help reduce the floor and engine temperatures, such as racing shoe heel protectors, exhaust installation, transmission tunnel foot box, shifter boots, and throttle rod covers.
Unlike typical insulation, which often leverages the mass and thickness of the material to create a thermal barrier, heat management solutions used in NASCAR and professional car racing need to be thin and lightweight without compromising their ability to protect surrounding parts from extreme heat.
This can be achieved by using the highest-quality materials, applying them to performance-enhancing designs, and collaborating with professional racing teams to optimize the vehicles' performance. 
High-Quality Lightweight Thermal Insulating Materials
Choosing the right materials that meet your unique requirements is the first step in creating an efficient thermal control solution. Using the latest technologies, we manufacture custom thermal insulating materials for a wide range of clients -- from NASA to NASCAR -- including:
Lightweight composites, fiberglass, silica, ceramics mineral wool, and cellulose.

Foams such as closed-cell, melamine, polyamide, polystyrene, and polyurethane.

Exclusive materials such as Aerogel® and Pyrogel®.
Custom Design Thermal Insulation Solutions For Race Cars
A lot of considerations need to go into maintaining and optimizing high-performing race cars. From selecting the most effective external covering to reducing floor and engine temperatures, we leave nothing to chance. This is made possible by our extensive experience in creating highly customized solutions for cars used in various race series, including IMSA, Indy, F1, NHRA, and World Rally. 
These products are designed to help improve the vehicles' performance. For example, they're optimized to address the need for extreme heat and vibration abatement in race cars. In addition, quilted heat shields are often used to reduce temperature and ensure component functionality while reflective and radiant thermal barriers are applied to protect excessive heat from other parts.
Selecting the Right Thermal Insulation Products For Your Vehicle
The right lightweight thermal insulation solutions help protect your vehicle and optimize its performance without adding unnecessary weight. Some of these products include shifter boots, window nets, fueler aprons, helmet skirts, throttle rod covers, heat shields, protective equipment covers, and car covers.
Our lightweight thermal solutions are designed for optimal safety and performance. Shop our wide range of thermal control products or get in touch for your customized solution.
---