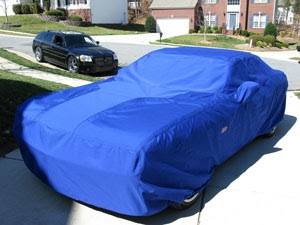 Car Covers - Custom, Protective, Water Resistant
Thermal Control Products manufactures a variety of car covers that protect against debris, heat and the elements. We offer covers for both indoor and outdoor use. Options include fabrics, colors, soft liners and graphics. Out fabrics provide varying levels of durability, water resistance and UV resistance. Call us to discuss your specific uses and we can help you chose the best fabric for your car cover. Soft liners can be added, especially for use on show cars. Add graphics to any cover – numbers, team artwork or sponsor logos.

FULL CAR COVER –
made out of sunbrella (left),  our full car cover offers superior protection

¾ CAR COVER -
Our ¾ Car Cover is used by top names in the professional motorsports industry as a rain cover. It covers the entire racecar at the track.  Its shape allows east maneuvering of the car, but is shortened from the back of the from wheel to the rear of the car.
GREENHOUSE COVER -
Our Greenhouse Cover keeps the cockpit of the car cool, covering the front and read windshields, roof and windows. Typically made out of a reflective material, it can include windows that allow access to the cockpit and steering wheel.
---