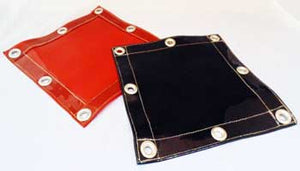 Welding Equipment and Welding Apparel Solutions
Welding sleeves are the perfect solution for high temperature situations. Welding sleeves are most commonly worn around high temperature automotive exhausts. Our welding sleeves at Thermal Control Products can be used on radiant heat applications that reach up to 1800 degrees Fahrenheit. They are made out of CarbonX or other fire retardant rated materials and can be made at custom lengths for your needs. The welding sleeve can be extended out onto the palm or end at the wrist.
For the best level of protection, invest in our welding jackets. These jackets are custom designed for top performance and safety during welding. Like our welding sleeves, our welding jackets are constructed using a CarbonX material, but also with closure-type snaps. These jackets can be made in full length and half length styles.
Our Welding Curtains are custom made to your specific height and width. These curtains provide top level security and safety during welding projects. Constructed in a dark green or aztec red weld shield material, these are a great solution for welding protection.
We are constantly innovating new thermal solutions at Thermal Control Products. For all of your welding thermal needs, let us be your solution provider. We custom-fabricate to your specifications at our facility in Concord, NC and can transport your welding thermal solution anywhere across the globe.
Contact us today by clicking here to learn more about our welding apparel and solutions.
---