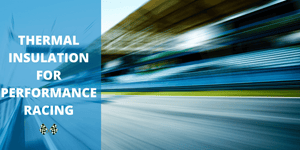 INFOGRAPHIC: Thermal Insulation Anatomy for Performance Racing
No race is ready for participation until both the race car and the driver are adequately outfitted with the most advanced thermal insulation materials.  
Many of the materials utilized today originated with NASA and have found a way to a more earthly use with NASCAR. Other materials are commonly used in refineries, petrochemical, and gas processing plants, and thus have undergone extensive research and development, testing, validation, and regulatory approval. 
Collectively, the upgrades represent an investment common to all race teams and are utilized to produce positive, safe, and cost-effective outcomes.
---