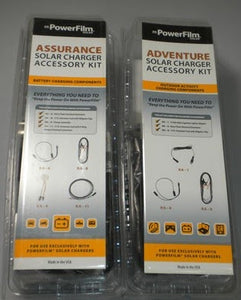 Thermal Control Products, Inc. Announces Partnership with Powerfilm
FOR IMMEDIATE RELEASE
THERMAL CONTROL PRODUCTS, INC ANNOUNCES
PARTNERSHIP WITH POWERFILM
Expanding Product Offerings with Green Technology
Charlotte, NC (Mar. 25, 2013) – Thermal Control Products announces a new agreement with PowerFilm, Inc., developer and manufacturer of thin-film solar products and modules.   Thermal Control Products has been designated as the official distributor of PowerFilm's products in North and South Carolina.  This partnership will enable solar technology to be combined with a wide range of customized protective products to generate alternative and backup power sources.   
"We are very excited about the opportunity to work with PowerFilm and their green technology," said Paul Matte, vice president of Thermal Control Products.  "Thermal Control Products will be rolling out several new products in the next few months integrating PowerFilm's technologies with Thermal Controls' product offerings."
Thermal Control Products will incorporate PowerFilm's solar module products in a range of products to be used in applications for professional race teams, commercial transportation, marine, industrial and military markets. The blend of these two company's products will provide customers with a broader array of customized products. 
"We are excited for the chance to work with Thermal Control Products and integrate our solar technology with their products," says Ron Mason, VP of Sales and Marketing of PowerFilm, Inc. "This is a great opportunity for both of our companies and we're looking forward to the bright future of this partnership." 
About Thermal Control Products, Inc.
Founded in 1994, Thermal Control Products specializes in the custom manufacturing of thermal and protective components. They produce products for the professional motorsports industry, commercial transportation, industrial and military markets.  Thermal Control Products continues to expand their capabilities as an innovative manufacturer; constantly creating new products with the most efficient manufacturing technologies.  Thermal Control Products is based in Concord, North Carolina.
About Powerfilm
PowerFilm, Inc. is a developer and manufacturer of thin, flexible solar panels based on a proprietary production process. The company's objective is to target portable and remote solar power applications, the government and military markets, and the building integrated solar power market. PowerFilm is focused on creation of complete solar solutions using select partner organizations in select markets that possess the branding and distribution to drive products to market. PowerFilm is based in Ames, Iowa.
PowerFilm was founded in 1988 by Dr. Frank Jeffrey and Dr. Derrick Grimmer, both former 3M research physicists, with a combined 65 years of experience in semiconductor and solar energy research and development.
For more information about these two companies, please visit:
Thermal Control Products at www.thermalcontrolproducts.com
PowerFilm, Inc. at www.powerfilmsolar.com
---