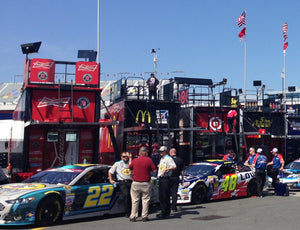 Start Your Engines! Or Bobsleds!
The team at Thermal Control Products is looking forward to this weekend's 55th running of the Coca-Cola 600 here in Charlotte, North Carolina. We LOVE NASCAR and can't wait to see our favorite drivers showing off all of the hard work we've done behind the scenes.
If you look closely, you'll find our Industrial Heat Shields, Thermal Barriers, and Thermal Sleeving and Wraps in several of the cars. And you'll even see some of our work on the sidelines. While our focus is on the oval track this weekend, we dug into the archives for another racing project we were part of.
The temperatures were much cooler outside in Park City, Utah during the bobsledding World Cup, but the competition was hot. You might notice the Thermal Control Products logo on the side of the bobsled Steve Holcombe manned when he led the team to a four-man victory on Saturday, December 7, 2013 after winning the two-man race on Friday.
See the USA Today article here. 
BMW designed the two-man sled, and the Bo-Dyn Bobsled Project, headed by former NASCAR driver Geoff Bodine, designed the four-man sled. The team at Thermal Control Products was excited to be part of the project by designing custom seat covers and padding.
Although many of our projects are one-of-a-kind (like a bobsled), Thermal Control Products also provides mass production, excelling in the requirements for today's modern assembly line. Thermal Control Products is an ISO 9001:2008 certified business, maintaining the highest quality management and assurance systems possible.
So, go ahead. Open the pool and enjoy Sunday's race. Watch for traffic and parking updates on our Facebook page or Twitter and look for the Thermal Control Products at your local track.
---